<!!(ThePillsS)>
Programme
Friday 20 November 2015

Welcome to the participants
Introduction of the China Outbound Forum

Cocktail reception

Official opening dinner
With a keynote Speaker

Plenary session
China as a global investor: accelerating and broadening the trend
Saturday 21 November 2015

Plenary session
The "one belt, one road" initiative: What it means in terms of new opportunities
Plenary session
Sino-Foreign partnerships: What creates the successful, win-win combinations?

Looking at the drivers for Chinese investment in the US

Plenary session
120 million Chinese tourists and still rising: How China is reshaping the glob al tourism industry

"Built by China": Becoming a global infrastructure player

The European attraction: What comes next?

Plenary session
Developing more cost-efficient financing channels for outbound expansion

Cocktail reception

Dinner
An evening of recognition of successful Chinese companies


Sunday 22 November 2015

Adjusting to new market trends in Africa

The rise of the international role of the Yuan as a new asset to finance international expansion

"Buying the world"?: How Chinese investors can address obstacles and resistances to their international expansion

China's Private Equity: Going global…And fast

Plenary session
How China's outbound drive is beginning to reshape the global business landscape
Closing remarks: Some key points to take back home

Farewell reception
  Building on the very successful inaugural meeting of the China Outbound Forum the second edition of the Forum will focus on the new developments that are accelerating and expanding the trend of globalization of Chinese companies – many of them now aspiring to international leadership position in their sectors and upping their game to achieve this objective.
  The One road one belt initiative launched by President Xi jinping in 2013 and revved up since the beginning of the year is bound to add breadth and momentum to the outbound drive. The One Road part is centered on the Asia and Eurasian landmass, while the one belt element looks at creating a 21st century maritime Silk Road, encompassing the South China Sea, the South Pacific and the Indian Ocean. Designed to provide a second breath to China's economic development, this initiative is complemented by the creation of a US$ 40 billion Silk Road infrastructure fund and the creation of the Asian Infrastructure Investment Bank. It has the potential to unleash gigantic new opportunities especially in the domain of infrastructure and could herald a new era of broader and tighter economic and business linkages between China and its partners. ..more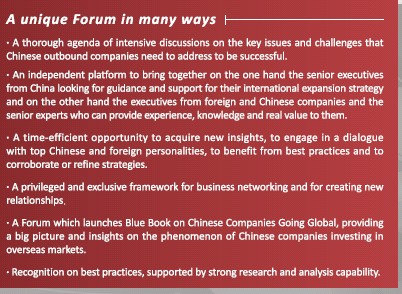 Some Topics on the Agenda

●When going global becomes a "Must"
●China's going global strategy: What does it mean for companies moving abroad
●"Need to have, need to do": A Check list of for Chinese outbound companies
●Managing the challenges and risks when moving outbound: from the jungle of compliance issues to the need to build the right resources
●Learning from success stories: How did some companies manage to make it abroad? Financing M & As
●What could be the impact of a China-EU Investment Treaty
●What could be the impact of a China-US Investment Treaty
●US infrastructure as an opportunity for Chinese companies
●A focus on some opportunities in Africa
●A focus on some opportunities in Latin America
●Managing the crucial challenges of culture and stakeholder relations.


The China Outbound Forum Mission

Created at a very timely moment when the drive for overseas expansion of Chinese companies is entering a new phase and gathering further momentum, The China Outbound Forum differentiates itself from existing conferences, which are more focused on promoting overseas investment locations. It is designed to support Chinese companies as they consider expanding their activities internationally – while also attracting mainland companies well established at the global level. The Forum is a platform bringing together Chinese senior executives and their interlocutors from foreign companies as well as from other sources of expertise and knowledge, with an agenda designed to cover the key issues and challenges that Chinese outbound companies need to address successfully as they move abroad.


Recognizing Innovation and Success

On the basis of extensive research, the Forum is identifying 50 Chinese companies that have proved particularly innovative and successful in their expansion overseas. A high profile event in the context of the Forum will recognize and honor these companies – allowing the participants to benefit from success stories. A Report on Chinese Companies Going Global will also be published and widely distributed to the media and public.
<!!(ThePillsE)>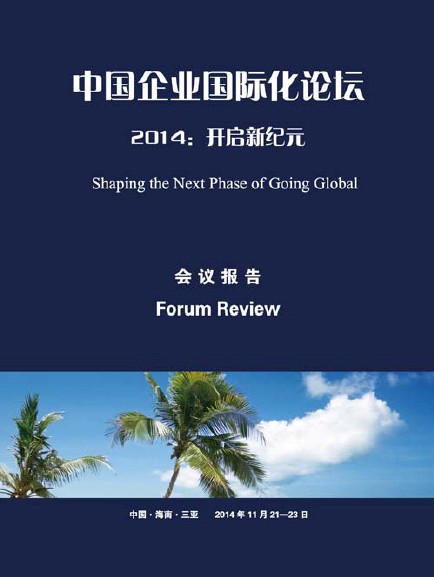 Download (Size:27.2MB)


Register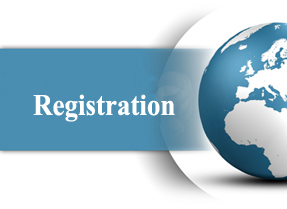 The China Outbound Forum takes place from 20 November (afternoon) to 22 November 2015 in Sanya, at the Intercontinental Sanya Resort hotel.
A group booking has been arranged at the Intercontinental Sanya Resort hotel with a preferential rate for the participants of the Forum.
Please contact our offices in Beijing, Switzerland or in the US for any additional information.

The Center for China & Globalization, P.R.China
Mr. Malin(For Cooperation)
Tel: +86 10 65611038-8888
malin@ccg.org.cn
Ms. Mia Qiu(For Registration)
Tel: +86 65611038-8008
qiumuyue@ccg.org.cn

Smadja & Smadja Strategic Advisory Switzerland
Mrs. Isabelle Rossetti
Tel.: +41 22 994 0410
Isabelle.rossetti@smadja.ch

Smadja & Smadja Strategic Advisory USA
Mr. Eric Fritz
Tel: +1 212 759 6000
eric.fritz@smadja.ch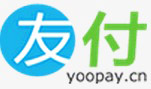 ★ Platinum Sponsor
★ Gold Sponsor
★ Silver Sponsor
★ Knowledge Partner
Contact
Mr. Malin(for Cooperation)
Tel: +86 10 65611038-8888
malin@ccg.org.cn
The Inaugural meeting of the China Outbound Forum brings together around 250-300 participants. Among them:
Senior executives from Chinese companies.
Senior executives from foreign service companies and financial institutions
Senior executives of foreign companies seeking Chinese investment
Relevant government officials from China and abroad.
Renowned experts and thought leaders.
Senior personalities from international organizations.
| | |
| --- | --- |
| | |
| | | | |
| --- | --- | --- | --- |
| | | | |
| China Association of International Economic Cooperation (CAFIEC) of the Ministry of Commerce of the People's Republic of China. CAFIEC is a national organization for conducting activities, engaging in research and organizing exchanges in international economic cooperation and on China companies' outbound strategies. Established in 1983 it comprises many senior leaders, more... | China International Talent Exchange Foundation, was set up with the approval of the Government of the People's Republic of China to promote personal exchanges and cooperation under the State Administration for Foreign Experts. It supports and promotes enterprises, universities, research institutions. more... | The Center for China and Globalization (CCG) is a Chinese global think tank founded by the China Global Talent Society and Policy Advisory Committee of the China Overseas Returned Scholars Association. The Center has a strategic partnership with the China Association for International Economic Cooperation more... | Smadja and Smadja Strategic Advisory was established in 2001 in Switzerland and US. The firm works with global corporations and government entities on global trends and strategic issues. Its mission is to help its clients to navigate more... |
Claude Smadja,President of Smadja Strategy

Long Yongtu,Former Vice Minister of Commerce

Ronnie Chan,Chairman, Hanglung Group, Co-chair of Asia Society, HK

Wang Huiyao,President of Center for China and Globalization

Cui Mingmo,President, China Association of International Economic

Cao Dewang,
Founder and Chairman, Fuyao Group

William Overholt,
President, Fung Global Institute, HK

Su Guangming,Director General, State Administration for Foreign Experts, PRC

Tim Stratford,Partner, Covington & Burling Beijing Office, former General

Wu Jianming,Executive Vice-Chairman, Institute for Innovation & Development

Wu Yanjun,

Executive Vice-Mayor of Sanya

Zhang Hongli,Senior Vice President, Industrial & Commercial Bank of China